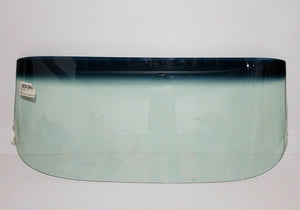 PGW
1963-1964 LeSabre, Impala, Coupe DeVille, Wildcat, Catalina 2 dr. Convertible Windshield
Regular price
$249.00
$0.00
DW 626 GBN. Fits 1963-1964 LeSabre, Jetstar 88, Electra, Cadillac Coupe Deville 2 door Convertible, and so many more. Brand new OEM quality windshield manufactured by PGW. See chart below for exact vehicles. Feel free to ask any questions, this windshield fits many different vehicles, if unsure of fitment ask!!  Windshield will have original factory green tint with a blue shade band.
Shipped to a Commercial address for $189 (If you require other arrangements please contact us before purchasing)
What is OEM Glass?
An OEM windshield will be identical to the original, factory installed windshield that came with your car when it was brand new. These windshields may not necessarily be manufactured by the company who made the windshield originally installed on your car, but they are nearly identical in every way. This glass is manufactured according to your car maker's very specific regulations, and will match your original in size, shape, and color. It's important to note that these windshields are also certified by the Department of Transportation, so you can be assured of their safety. All OEM distributors contract with one or more of the various car manufacturer's, and that's what qualifies them as an Original Equipment Manufacturer.
What is Aftermarket Glass?
Aftermarket glass is manufactured by auto glass companies who don't contract with specific auto makers. Since these companies are not manufacturing OEM windshields under contract for the auto manufacturer, they don't have to abide by specific manufacturer guidelines. In fact, due to copyright laws, auto glass companies are actually prohibited from producing windshields that are identical to the factory-installed versions.
| Year | Make | Model | Type |
| --- | --- | --- | --- |
| 1963 - 1964 | OLDSMOBILE | DYNAMIC 88 | 2 DOOR CONVERTIBLE |
| 1963 - 1964 | BUICK | LESABRE | 2 DOOR CONVERTIBLE |
| 1963 - 1964 | OLDSMOBILE | JETSTAR 88 | 2 DOOR CONVERTIBLE |
| 1963 - 1964 | PONTIAC | BONNEVILLE | 2 DOOR CONVERTIBLE |
| 1963 - 1964 | BUICK | INVICTA WILDCAT | 2 DOOR HARDTOP |
| 1963 - 1964 | CHEVROLET | IMPALA | 2 DOOR CONVERTIBLE |
| 1963 - 1964 | BUICK | LESABRE | 2 DOOR HARDTOP |
| 1963 - 1964 | CADILLAC | SIXTY TWO | 4 DOOR HARDTOP |
| 1963 - 1964 | BUICK | ELECTRA | 4 DOOR HARDTOP |
| 1963 - 1964 | CADILLAC | COUPE DEVILLE | 2 DOOR CONVERTIBLE |
| 1963 - 1964 | CHEVROLET | IMPALA | 2 DOOR HARDTOP |
| 1963 - 1964 | BUICK | ELECTRA | 2 DOOR HARDTOP |
| 1963 - 1964 | OLDSMOBILE | SUPER 88 | 2 DOOR HARDTOP |
| 1963 - 1964 | PONTIAC | BONNEVILLE | 2 DOOR HARDTOP |
| 1963 - 1964 | OLDSMOBILE | JETSTAR 88 | 2 DOOR HARDTOP |
| 1963 - 1964 | OLDSMOBILE | NINETY-EIGHT | 2 DOOR CONVERTIBLE |
| 1963 - 1964 | OLDSMOBILE | STARFIRE | 2 DOOR CONVERTIBLE |
| 1963 - 1964 | OLDSMOBILE | NINETY-EIGHT | 2 DOOR HARDTOP |
| 1963 - 1964 | OLDSMOBILE | DYNAMIC 88 | 2 DOOR HARDTOP |
| 1963 - 1964 | PONTIAC | CATALINA | 2 DOOR HARDTOP |
| 1963 - 1964 | CADILLAC | ELDORADO | 2 DOOR CONVERTIBLE |
| 1963 - 1964 | PONTIAC | CATALINA | 2 DOOR CONVERTIBLE |
| 1963 - 1964 | CADILLAC | SEDAN DEVILLE | 4 DOOR HARDTOP |
| 1963 - 1964 | OLDSMOBILE | NINETY-EIGHT | 4 DOOR HARDTOP |

 
| | | | |
| --- | --- | --- | --- |
| 1963 - 1964 | BUICK           | ELECTRA | 2 DOOR CONVERTIBLE |
| 1963 - 1964 | BUICK | INVICTA WILDCAT | 2 DOOR CONVERTIBLE |
---
More from this collection